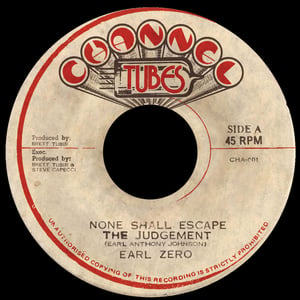 $

5.00
Channel Tubes Proudly Presents...
Foundation artist EARL ZERO singing his masterful hit "NONE SHALL ESCAPE THE JUDGEMENT" over a Channel Tubes VERSION EXCURSION!
The flip is a dub of the SHAOLIN FIST band with Chubes pon the mix. Drop it like its hot!
Limited Pressing..Don't sleep on dis!
CHA-001
A: Earl Zero - None Shall Escape The Judgement
B: Shaolin Fist - Judgement Version
Produced, Arranged and Mixed by: Brett Tubin
Musicians:
Drums: Eddie Ocampo
Bass: Steve Capecci
Riddim Guitar: Brett Tubin
Lead Guitar: Andy Bassford
Piano, Organ: Victor Axelrod
Engineers: Victor Axelrod, Brett Tubin
Studios: Don't Trip, Channel Tubes.
Executive Producers: Brett Tubin & Steve Capecci